Where is Emo's located?
2015 E Riverside Drive Bldg. 10, Austin, TX 78741
From Downtown Austin you will take I-35 S to the Riverside exit (second exit south of 6th Street). Turn left onto Riverside and continue to Burton Street (3rd Light) and turn right.
We are directly behind the Pizza Hut at the intersection of Riverside and Burton.
Where can I buy tickets for shows and events at Emo's?
This is the easy part! Just go to our home page or calendar on our website, click on the show you want to go to and follow the links to buy tickets.
On show days, you can purchase tickets from the Box Office after doors. However, your best bet is online at https://emosaustin.frontgatetickets.com/.
How old do you have to be to attend shows and events at Emo's?
Check the show info and ticket details for any age limitations
Keep in mind that if you are under 21, or do not have current government issued identification, then you will be marked as a minor and you will not be allowed to drink or re-enter the club if you leave. Also, you cannot AT ANY TIME be in possession of an alcoholic beverage.
What can I bring into the club with me and what are the basic rules?
You are not allowed to bring in the following items…

Outside beverages
Markers, spray paint
Weapons, pocket knifes, throwing stars, mini clubs, etc.
Illegal substances
Chairs
Pets (except service dogs)

Every person who claims to be of age to drink must present a government issued ID proving it. NO EXCEPTIONS, WE ID EVERYONE!
Every person checked in as a minor is told the same rules for minors
If you are caught without your minor band, in possession of alcohol, or disobeying any of our rules you will be told kindly to leave.
If you are 21 or older and have the proper wristband to prove it then you are allowed to leave and come back in.
Is there a Handicap section in Emo's?
All tickets are sold as General Admission because the inside of the club is one open floor plan. We do not have a separate handicapped section, but there is a handicap ramp. We are happy to make exceptions, so please contact info@c3presents.com in advance to discuss the preferred accommodation.
What is the best way to contact Emo's regarding show questions, booking questions, or advancing questions?
For general questions please e-mail info@c3presents.com.
Does Emo's have its own parking?
Yes, Emo's has parking spots that wrap around the shopping complex. Keep in mind these spots do fill up quick on the night of shows so if you want to secure a spot please come early. We encourage carpooling and cabbing as alternatives.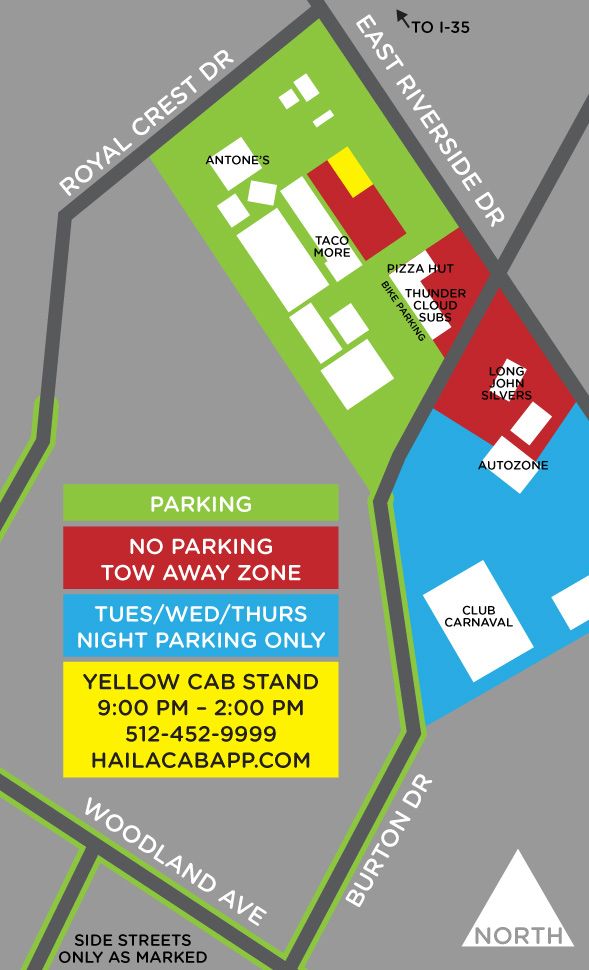 Can I bring my camera to the show to take pictures?
Small pocket sized cameras are typically always permitted
We do not allow large professional style cameras/equipment in unless you have prior authorization from the band/agent/manager.
Is there an outdoor patio and can you smoke at Emo's?
There is an outdoor patio for smoking and getting some air.
There is NO SMOKING while you are inside the building.
Where can I find my lost item?
E-mail lostandfound@emosaustin.com.